Wickerjack - FoundryVTT Module (DnD5e)
A downloadable Foundry VTT module
THIS IS A MODULE FOR FOUNDRY VIRTUAL TABLETOP
For the PDF version click here
This is a conversion of the 103 page PDF campaign, Wickerjack, for 5th Edition Dungeons and Dragons. It has all the scenes, items, actors (monsters and NPCs), tables, and journal entries needed to run it. The PDF is not necessary if you have the module, the entire book is loaded into linked journal pages.

[This requires the free DnD5e system for Foundry]

This has 22 separate scenes and can double as a fully functioning town in lieu of the adventure if that is desired.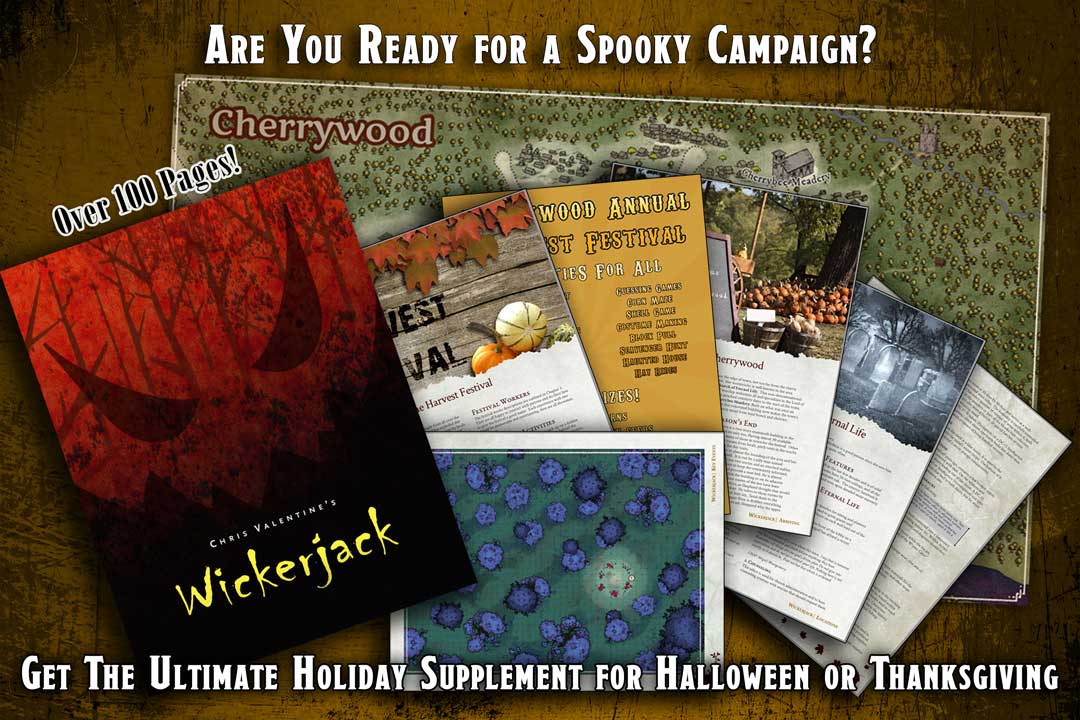 A quaint little town has built a reputation for mishaps and misadventure. As the popularity of their regional harvest festival grows, so does the trouble. Townsfolk have gone missing, strange creatures are crossing the border, effigies to a local scarecrow patron are being raised all around. Can you find out what is happening behind the scenes? Why does their cherry orchard bloom long into the winter? What is the validity of the town's curse? And can you do it all before its time for the Great Feast to finish off the grand harvest celebration?
This is the ULTIMATE Halloween and/or Thanksgiving campaign, it has it all with well over 20 hours of play. Mix and match the material to create several unique one-shots, or run it as a full Tier 1 campaign book. This mega-adventure is over 100 pages full of many scenes and plots.
Contains several potential one-shots, use it for the holidays for years to come. Includes 4-hour, 8-hour, 12-hour, 16-hour and full campaign variations.
This book has your fall, harvest, Halloween, and Thanksgiving days covered!
Inside you'll find:
Horror Favorites:

Vampire
Werewolf
The Reanimated
Witch
Ghost
Scarecrow
Sea Creature
Fey
and more!

Creepy Locations: 17 encounter maps

Ruined Chateau
Two-story Inn
Pumpkin Patch
Cherry Tree Orchard
Wharf
Huntsman's Cabin
Cemetery
Church
Meadery
Harvest Festival
Windmill
and more

Monsters: 14 new creature statblocks
NPCs: 36 unique NPCs give the town life
Lore

Information on Wickerjack, a powerful archfey
A new demiplane, a subset of the Fey Lands
Introducing the Amber Court
Gothic horror subplots
A complete town with 200 years of history

Harvest Festival: Players and characters can play games at the huge harvest festival. Included are over a dozen games and a Haunted House game.

Great for THANKSGIVING
Great for HALLOWEEN
Great for FALL

Easter Eggs referencing many pop culture films and books
Also includes three bonus maps: Mining Cave / Black Market (behind Chapman's Wharf), Shopping Plaza, Wondrous Goods. These have been added to round out the town.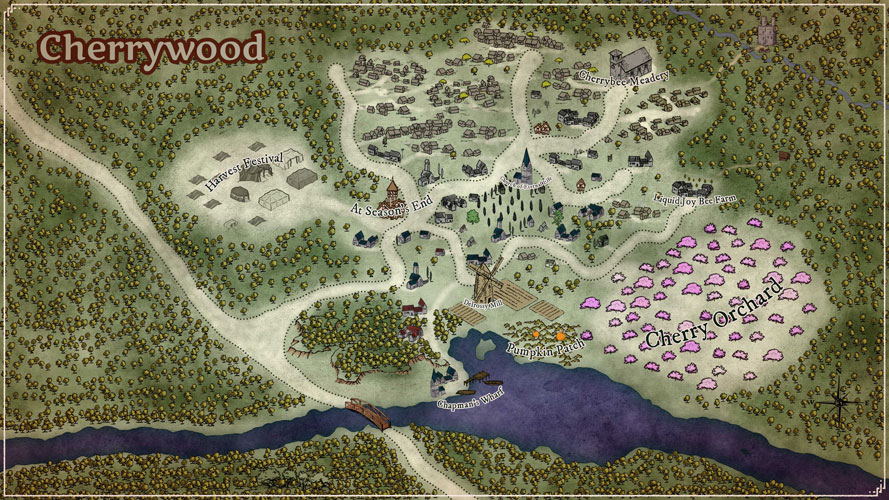 Purchase
In order to download this Foundry VTT module you must purchase it at or above the minimum price of $9.99 USD. You will get access to the following files:
Wickerjack for Foundry v8 and v9
64 MB
Wickerjack for Foundry v10
64 MB